04jul8:00 amHooper 4th of July Fun Run10K, Two Mile
Event Details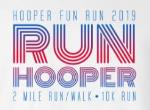 Hooper 4th of July Fun Run
Join us for the annual Hooper 4th of July Fun Run on Thursday, July 4th!
The Course
The course is flat and will be run through the residential area of Hooper. Both races will begin and finish at the Hooper Park. A portion of the 10K will run South and East of town on a paved road.

Entry
Entry fee is $20.00 with a t-shirt if received by June 23rd, 2019. As of June 24th entry to the race will be $25.00, and participants will not be guaranteed a race tee. Day of entries will be accepted at $30.00 and will not be guaranteed a shirt.
Packets/Waiver Signing
Online entrants must sign their race waiver on race day before participating. Race packets and shirts will be available on race day at the Hooper Park between 6:45 and 7:45 A.M. Both races and walk will begin at 8:00 A.M. on July 4th, 2018.

Age Brackets
*Brackets will also be split male & female
10K Run                      2 Mile Run/Walk
14 & under                  10 & under
15-19                           11-14
20-29                           16-25
30-39                           26-39
40-49                           40-49
50-59                           50-59
60 & over                    60 & over
Trophies will be awarded to the top male and female finishers overall. Medals will be awarded to the top three male and female finishers in each age bracket. Top finishers overall will not be eligible for individual medals. Awards and prizes will be held at the Hooper Memorial Park immediately after the race.
Location

Hooper Memorial Park

415 N. Main St, Hooper, NE 68031